Kearsarge Corporation
Superfund Site
Conway, New Hampshire
Project Details
DATE OF COMPLETION
September 2015
CLIENT
Hurteau Heating Services
PRIME CONTRACTOR
ISOTEC

ENGINEER
Weston Solutions, Inc.
PROJECT DESCRIPTION
Treat 3,000 cubic yards of contaminated soil with a modified Fenton's reagent.
The site was in a natural drainage way to Pequawket Pond, a body of water in Conway New Hampshire. The site was very low with ground water at 2 1/2-3' below the ground surface. The top 3' was sand, which was not contaminated. The contamination extended from that level to 11' below ground surface in a silty clay layer. The consultant originally specified that the clean overburden be excavated and stockpiled in an area north of the contaminated area before soil mixing commenced. Lang Tool Co. proposed performing the soil mixing and excavating in conjunction. This method enabled the blender to work from the original ground surface that was dry and would not expose the machinery men and hoses to the contamination, which allowed the work to be done without the need to construct a decontamination pad. LTC also proposed using the excavated clean soil as a berm around the mixing area to prevent surface water from entering the treatment area. The S1 row and the E17 column were excavated before mixing commenced. As soon as there was room to work excavation began in the S2 row and the E16 column. The work continued in that manner until ISCO was completed.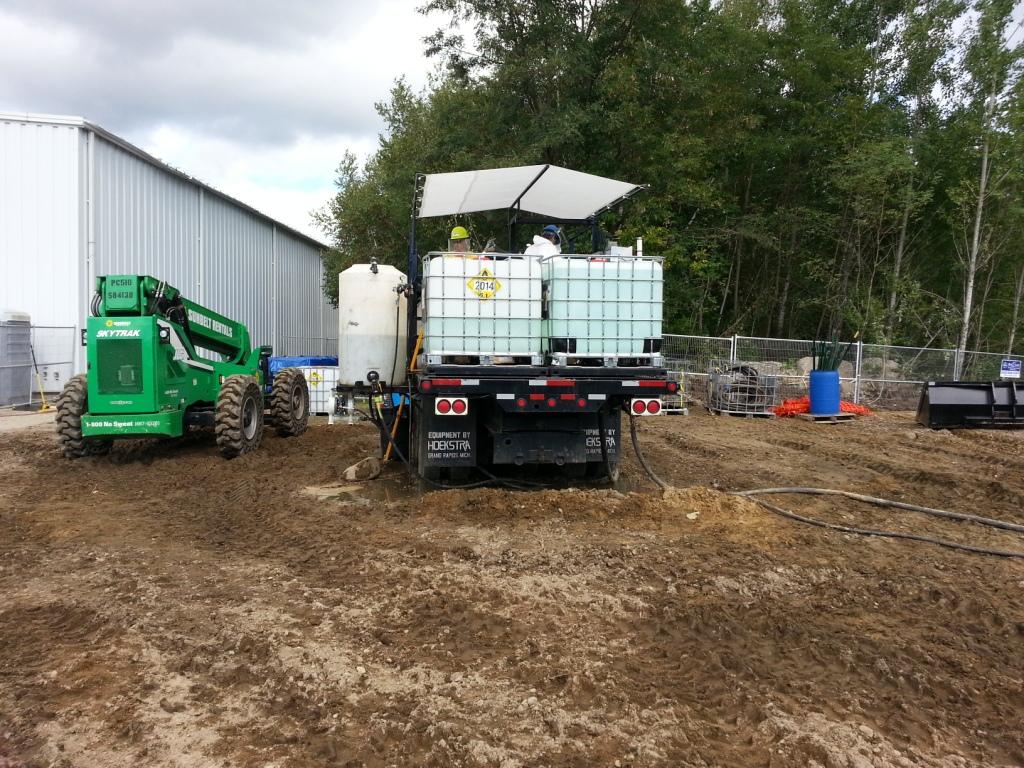 The LTC ISCO Plant has two mix tanks designated, A & B. Hydrogen peroxide is pumped off the platform scales into either tank and water is metered in through flow controls. As "A" tank is being filled, solution can be pumped from "B" tank and vice versa so that mixing production is not interrupted. The catalyst is pumped in a separate line so that the reaction does not occur in the blender feed lines.