Former Kent Cleaners Site
Lansing, Michigan
Project Details
DATE OF COMPLETION
October 2019 (29 working days)
PRIME CONTRACTOR & ENGINEER
Hamp, Mathews & Associates, Inc.
PROJECT DESCRIPTION
12,353 cubic yards of soil mixing, 440,800 lb of Klozur persulfate, 15,080 lb of NaOH, 816 tons of Portland cement.
The Kent Cleaners Site was a dry cleaning operation. The soil was contaminated with chlorinated solvents to 22' bgs, which was an elevation of 833' MSL. The site was bounded on 2 sides by city streets and on the other two sides by residential property. Initially approximately 3 feet of low level contaminated soil was excavated and hauled off. The highly contaminated soil extended 19' below the initial excavation requiring that the ISS/ISCO work be performed in two lifts. The drawings above show the cell layout and designation and the method employed. Utilizing ISS/ISCO enable this process to proceed efficiently and effectively. It was anticipated that swell generated by ISS/ISCO would increase the elevation by around 25%, which proved to be fairly accurate. The E12 column, which is on the extreme east end of the site, was excavated to 846' as shown on the top left. This soil was leveled over the eastern half of the site. ISS/ISCO began in the E12 column. On the morning of the 2nd day soil excavated from the E11 column was deposited on the previously stabilized E12 column as shown at the top right. Soil mixing and excavation proceeded in this manner from east to west until the E7 column lower level was completed. At that point ISS/ISCO of the upper tier commenced in column E12 and proceeded east to west. It was necessary to perform the work in 2 halves as the entire site required treatment. The reagent plants were set up first on the west side and then moved to the east side when ISS/ISCO was completed on the eastern half.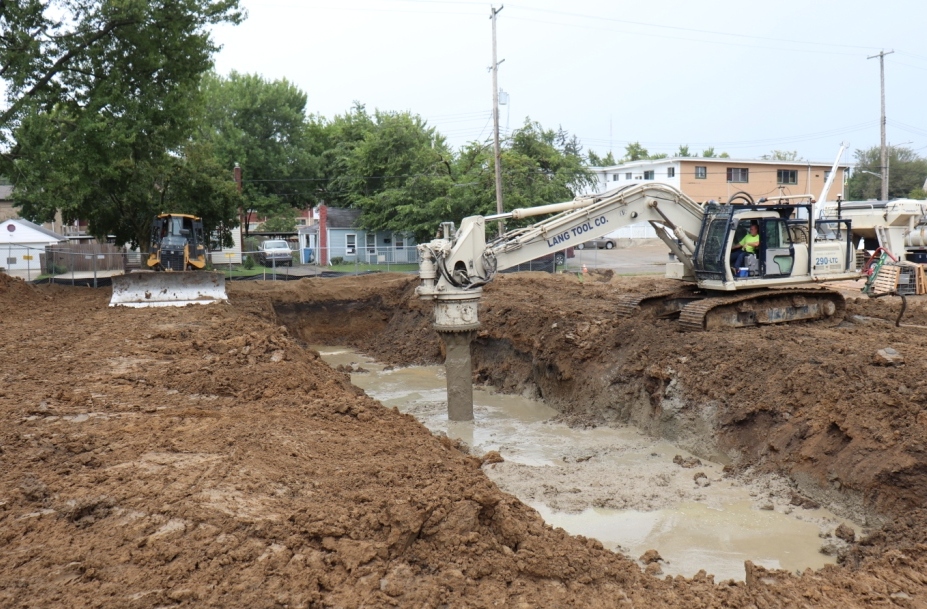 Shown above, the Dual Axis blender is mixing in the E10 column that was excavated (shown left). The excavated upper level soil has been leveled over the E12 & E11 columns on the left side of the picture. There was no stockpiling of excavated soil. This is true on projects that require an upper level of treatment and on projects that have a clean upper layer that doesn't require ISS/ISCO. The work continued in this manner to completion.
ISS/ISCO was completed Thursday afternoon. Friday the equipment was cleaned up and some of it demobilized. Monday the rest of the ISS/ISCO equipment was demobilized. Tuesday the excavator pulled in the berms and the dozer leveled the site. At noon the site was usable.